Mystery Airplane: May 2015
Boeing YQM-94A Compass Cope B
Tom Lymburn
In this day of Predators, Reapers, Global Hawks, and other unmanned aerial vehicles, we forget that aircraft similar in concept have been trialed over the whole course of aviation's century plus evolution. The Boeing YQM-94A is one example. Ordered in 1971 by the U.S. Air Force Aeronautical System Division for high altitude, long RANGE unmanned recon, the YQM-94A and the Ryan YQM-98A, were meant to launch and recover from a fixed runway. Two prototypes of each were ordered. The YQM-94A was flown by a pilot on the ground sing a TV camera in the aircraft's nose. Testing of the remote flight control system was carried out using a Cessna 172!
The YQM-94A was powered by a 5270 pound thrust GE J-97 turbojet mounted above the aluminum and glass fiber structure. The bottom half of the fuselage was filled with the guidance system and the top with payload. The landing gear was adapted from an Aero Commander. Although it had a wingspan of 90 feet, its loaded weight was only 14,400 pounds. Operating at altitudes of 50,000 to 70,000 feet, the YQM-84A had an endurance of up to 30 hours at a cruising speed of 330 mph.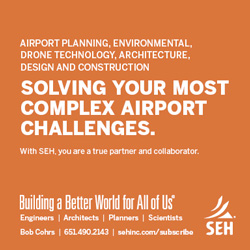 Serial number 71-1839, the first YQM-94, was rolled out on 30 November 1972. It made its maiden flight at Edwards AFB on 28 July 1973, but crashed on 4 August. The second model, 71-1840, flew on 2 November 1974 and competed with the Ryan product in the flight test program. In July 1977 the Air Force opted not to produce either aircraft. Some missions proposed for the Compass Cope were assigned to the Lockheed U-2R.
Toby Hanson of Webster, MN, wins this month, noting that the Compass Cope B is on display at Dayton, OH. Joe Connnell and Bob Heavirland also knew the YQM- 94A. A late card identifying the Piaggio 149 came from Graydon Carlson of Inver Grove Heights. Thanks, guys.
Hope to see you all at Discover Aviation Days the end of May. Blue skies and tailwinds!