Airport of the Month
Brooten Municipal Airport
Photo courtesy of airport manager Dave Bohmer who is also the cousin of John O. Bohmer
Brooten is an industrious place. The City's economic success would be great for many towns but is remarkable for a smaller community like Brooten. One of Brooten's more interesting products is wood baseball bats. In the 21st Century most baseball is played with metal bats, with the notable exception of the professional leagues. Traditionally the pros have used ash bats, but the ones made in Brooten are "freeze dried" maple. The list of professional ball players using the maple bats is getting long, supporting the company motto "Our Maple kicks Ash."
Another local business is one that makes winter flying more fun. Aero Ski makes winter landing gear for all kinds of flying machines. The best part is they're located on a first-class facility called the Brooten Municipal Airport, so you can fly-in and get fitted for skis.
Cementing the theory that there's a symbiotic relationship between the local economy's vitality and access to air transportation, the airport is conveniently adjacent to the City's successful industrial park. It has a 3500 foot-long paved and lighted runway. There's plenty of room for aircraft parking. The Arrival/Departure building was recently completed and has everything a transient pilot could desire including Wi-Fi. A courtesy car is available for ground transportation.
Terrain in this area is typical of the Minnesota prairie, so why is Brooten know as the "Heart of Bonanza Valley?" Because valley is the correct geological description. As the glaciers receded after the last ice age a series of interconnected aquifers were created. By 1960 farmers had discovered their usefulness for irrigation. A ground water management area was formed, and the steering committee chose the name. By assuring the aquifers recharge, agriculture has a renewable resource. That all makes Brooten a hub for agricultural aviation and a very active operator is based at the Airport.
"Glacial Ridge" is another ice age feature near Brooten. Its trail system is especially scenic. For those who like to be competitive while they walk, the local golf course is only a mile from the Airport. It's a "reversable" course where you play 9 holes clockwise on one day and counterclockwise the next. There's some good eating about the same distance from the airport including a dinner theater.
Brooten was first settled in 1886. A Scandinavian farmer named Reier LiaBraaten was among the early residents and gave a modified version of his name to the town. It's on what was the "Soo Line" Railroad and was an early center for shipping agricultural products. The big local celebration is Bonanza Valley Days, a three-day event featuring dancing, fireworks and a parade.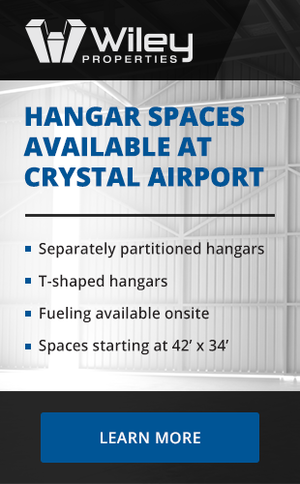 Aviation first came to Brooten in 1920 when a famous arctic pilot and explorer landed there. Ben Eielson was a North Dakota native who had relatives in Brooten. Eielson Air Force Base in Fairbanks is named after him. In 1928 Eielson became a more frequent visitor to Brooten using a farmer's field to take off and land. That year his aircraft got tangled in a fence prompting the American Legion and Commercial Club to explore building a real airport.
Getting it done had to wait until 1954 when John O. Bohmer started flying. By 1957 he had things organized and even contributed some money for purchasing the needed land. The first Brooten Airport was established just east of town and Bohmer became the official airport manager. By 1977 activity had increased, but the first site had limited potential for expansion. The airport was moved a short distance to its current location. John Bohmer was still the leader, and again made a financial contribution. A series of improvements brought it to the current configuration including the new building which appropriately displays the airport's name, "John O. Bohmer Field."
Mr. Bohmer is a man with many talents besides aviation, among them historian and writer. In 1986 he co-authored a book called "Brooten, My Hometown." There's some good aviation stuff in the book, but it really is a comprehensive history of the area. You could get a pretty good feel for the place by reading the book but flying there for a visit would be a lot more fun.