Airport of the Month
Hill City - Quadna Mountain Airport
Photo courtesy of airport manager, George Casper
There must be a theme here. Piquadinaw is what the Ojibway called the area. That roughly translates as "it is hilly." European settlers saw the wisdom in that name and in 1910 Hill City was incorporated. That same year the first edition of the local newspaper said, "it would be a hard proposition to find a more ideal and sightly location for a town..." It might have been bragging and certainly wasn't great grammar, but it was all true. In the 21st century the area around Hill City is still considered one of the most scenic places in the Midwest.
Hill City is located on the shore of Hill Lake. A prominent terrain feature just south of town is called Pequadna Mountain, which is another variation on the Native American name for the area. Conveniently pilots can access this wonderful place using the Hill City-Quadna Mountain Airport. The airport's 2900-foot-long turf runway is just southwest of the mountain whose peak rises exactly 300 feet above the runway. This is the perfect place for "tail draggers" but the runway is so smooth and well maintained that tricycle gear aircraft will have no problem.
If just absorbing the beauty isn't enough, there's plenty to do around Hill City. Quadna Mountain is the location for some exciting snowmobile races. The City has three wonderful parks including a swimming beach with a bath house and picnic shelter. Trails for everything from ATVs and snowmobiles to bicycles provide fun for people with all kinds of tastes. For those who require some aggravation with their outdoor activity, there's a golf course with some incredibly reasonable fees.
A picture of the Hill City High School basketball team from 1933 shows a lanky teenager named Archie Sailer standing next to the 11-year-old mascot, Don Beerbower. Many years later, Archie showed the picture to his son, Paul. Pointing at Don he said, "this boy was a real hero." Paul was fascinated with the story of the youngster. He's the author of Beerbower's biography called "The Oranges are Sweet," which brought a previously little-known hero to nation's attention.
Major Don Beerbower died on August 9, 1944 when his P-51 was shot down by German anti-aircraft artillery. With 15 ½ victories over German aircraft, Don Beerbower was the leading Ace of the US Army's 9th Airforce. He was also the commanding officer of the 353rd Fighter Squadron, a unit that had more aerial victories during World War II than any other squadron in the Army Air Force.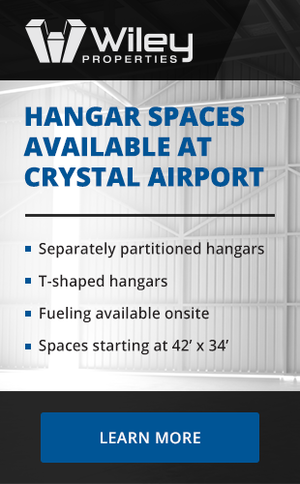 Veteran's Park in Hill City is named for Don Beerbower. P-51s are hard to find these days, so a Vietnam era helicopter gunship called a "Huey Cobra" is displayed in the park. It's appropriate because Beerbower's squadron was called the "Fighting Cobras" and Paul Sailer was a helicopter pilot during the US war in Southeast Asia. The park also features a "Wall of Names" listing veterans from Aitkin County going back to the American Civil War. Beerbower was inducted into the Minnesota Aviation Hall of Fame in 2000. That organization also honored Paul Sailer as their writer of the year in 2012.
Patriotism is a big part of life in Hill City. Independence Day is the big local celebration. It goes on for three days. The fun includes food, drink, dancing, games, a parade, people races and turtle races. There are a lot of places that have July 4th celebrations, but none have one as special as Hill City.
Pilots visiting Hill City can find the $100 hamburger or other fine food at any of the town's excellent restaurants. If you are there for a longer stay, there's a couple nice motels and many resorts to stay at. Hill City-Quadna Mountain Airport opened in the early 1970s. It's still pretty much the same 40+ years later. The airport is rather spartan compared to the airports in big cities but matches the simplicity of life in northern Minnesota.
Photo courtesy of Paul Sailer
Thankfully Hill City is still very much a charming small-town. Fly there and practice your technique for grass runways then stay and enjoy some of the ambiance.