Schweiss Doors premier choice for Waterloo airport hangars
City-owned facility has been installing Schweiss doors for 20 years
Photos courtesy Schweiss Doors
If there was a gathering place for hangar doors, the Waterloo Regional Airport may qualify. Schweiss Doors has been delivering bifold doors to the Waterloo, Iowa airport for the last 20 years, some doors up to 60 feet wide.
The list of Schweiss hangar doors at this city-owned property numbers 13 in all. Six of the bifold liftstrap doors measure 60-feet wide by 21-feet, 6-inches high, with two more measuring 59-feet wide. The airport is also home to several smaller bifold doors, including four T-hangar bifold doors.
Hangars at the Waterloo Regional Airport are leased by the city to private pilots and corporations. Three of the large hangars house jet aircraft, while others contain multiple planes, floatplanes, jets and helicopters.
"After we got the first door with the straps, we wanted every door with straps," says Rusty Zey, airport foreman. "Another reason was because of Dave Schweiss and his knowledge of the doors. Every time I called, he had the answer for me and every time I had a problem, he could help me over the phone.
"We love the doors and have told a lot of other people about them. We've done cable to liftstrap conversions on all but five of the doors. I would never put a cable on anything. I now spend a lot less time in these hangars in the wintertime fixing cables. We also converted some of our cable-operated autolatches to strap autolatches and haven't had a problem with them since."
Zey also has a 40-foot by 16-foot bifold liftstrap door on his farm shop. He says he loves it and reports no problems.
Out of the 30 hangars at the airport, six are large bulk hangars and two are used as maintenance shops. In 2008, the city chose to replace four sliding doors on T-hangars with bifold doors. The corporate hangar doors have remote openers, photo eye sensors, walkdoors and autolatches. Others have manual latches. For some of the doors, Schweiss supplied the sheeting and insulation and did the installation.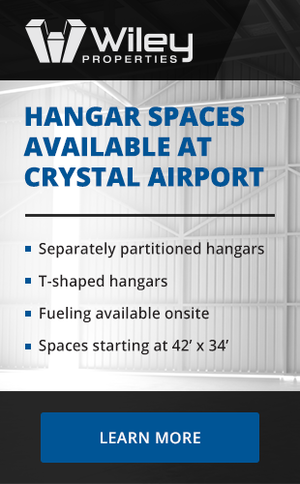 "We put a different manufacturer's door on one of our hangars and we've had problems with it ever since we got it," Zey says. "We had to do a lot of extra work on that door. The quality and construction of Schweiss doors are excellent. We have hangar doors by three other manufacturers. My honest opinion is the quality of those doors doesn't compare to Schweiss doors. On a scale of 1 to 10, I give Schweiss a 10. I have and would definitely recommend them to anyone."
Photos courtesy Schweiss Doors
Schweiss Doors is the premier manufacturer of hydraulic and bifold liftstrap doors. Doors are custom made to any size for any type of new or existing building for architects and builders determined to do amazing things with their buildings, including the doors. Schweiss also offers a cable to liftstrap conversion package. For more information, visit http://www.bifold.com.