Honoring histories and forging futures
Hinckley native makes historic flight to Cuba
Photo courtesy of Tom Schrade
What connection does small town, tourist-stop Hinckley, Minnesota have with a landmark flight from Marathon, Florida to Havana, Cuba? The answer may come as a surprise, but it's a lot more than first meets the eye.
Former Hinckley resident turned Tobies co-owner, turned pilot, turned CEO of an international aircraft supplier, Tom Schrade, participated in the historical flight from Marathon to Havana organized by the International Air Rally on May 19 to 22. The Cuba Air Rally marks the first time in over 60 years an event of this kind has been conducted from America into Cuba.
This event signifies more than just championing a diplomatic milestone. Managing director of International Air Rally, Catherine Tobenas shared the flight was "about commemorating the first Cuban aviators to make the crossing from the Florida Keys to Cuba. It is about stimulating Cuba's rich aviation past."
Erin Porter from Cruiser Aircraft, Inc. gave a glimpse into this goldmine of history by way of a 2013 Miami Herald article. The article delves into that rich past Tobenas mentioned, revealing two men after a prize, hot on the trail of international acclaim.
Domingo Rosillo del Toro and Augustin Parla were both of Cuban descent, and bitter rivals. They dared to cross the treacherous waters, fraught with dangers and unpredictable variables, not the least of which was shark-infested waters. The adventure took place May 1913, a mere 10 years after Orville Wright managed to fly 120 feet in 12 seconds. A monetary prize fueled their all but forgotten race. According to the Miami Herald 2013 article, its memory has grown to folkloric proportions..
Tobenas said the renewed, to-be annual air rally was organized "for the purpose of bringing back the golden years of aviation to Cuba," an allusion to 1913, the year Rosillo and Parla broke world records. It's been over 100 years since that initial flight. The country is making up for a lot of lost time. Schrade said there is virtually no general aviation in Cuba, and there hasn't been a rally like this in the country since before the revolution in 1958.
Relations with Cuba thawed in July 2015 when former President Obama re-established diplomatic relations, severed for nearly 55 years. That landmark decision enabled this rally to take place.
"For the first time after 60 years," Tobenas said, "on-board aircraft that normally would not have received authorization to cross, landed in Havana."
She specifically referred to the SportCruiser aircraft, which Schrade and his associates piloted. Tobenas recalled the moment of landing as "emotional and memorable ... not only for us but for the Cuban people, the handlers and civil aviation specialists." The presence of the SportCruisers made the event "spectacular and historical."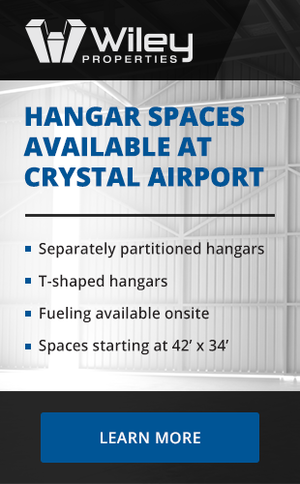 What about Schrade's story, though? How did a man born in Hinckley end up making historic flights to Cuba?
Schrade was born and raised in Hinckley. His father, John Schrade, owned the Hinckley Hardware store and the bowling alley. In 1961, John bought Tobies from Toby Lackner, when it was still off old Highway 61. Tom Schrade graduated in 1966, worked at Tobies from 1973, the same year he got out of the Navy, to 1995. He was around when the family built the shopping center, AmericInn, and Mission Creek 1894 Theme Park. If that isn't enough for local Hinckley credentials, Schrade was also involved with the group that put the Grand Casino together.
Schrade used his GI Bill money to invest in the licenses necessary to become a pilot. Then, somewhere along life's funny journey, Schrade got his hands on the Sikorsky S-38, sometimes called "The Explorer's Yacht." Its first flight took place in 1928. There only remain two in existence out of the 101 first produced.
Reuben W. "Buzz" Kaplan restored Schrade's S-38, completing the job in 2002 at Born Again Restoration in Owatonna, Minnesota. The upper wing of the aircraft is original, as well as the tail booms. It is painted identically to a Sikorsky flown in Africa in 1934. It houses two Pratt & Whitney turbo engines, each putting out 450 horsepower. The wingspan stretches to 72 feet. Its gross weight is 10,480 lbs.. It reaches a cruise speed of 110 miles per hour.
Restoration was completed in time for the star-studded 2004 movie, The Aviator - a biopic orbiting around director and aviator, Howard Hughes. The film featured Leonardo DiCaprio and Cate Blanchett, directed by Martin Scorsese.
Whose name was right alongside those Hollywood A-listers? Thomas Schrade, stunt performer. The Hinckley native flew his restored S-38 for the film, a model Hughes owned in his lifetime.
"They needed my S-38 Sikorsky...as it was the only one flying in the world," Schrade explained.
Now he boasts of being one of the film's pilots and DiCaprio's body double. Well, that last bit is a fib.
"Usually I get a laugh for that," he said.
After his stint in Hollywood, Schrade stuck with extensive collecting and traveling. The man owned more than 30 different aircraft, has flown over 9,000 hours, logging time in nearly all 50 states, and Canada, Mexico, Belize, Honduras and the Caribbean.
"I've flown over most of western and central Europe," he added, having made three of those trips in the S-38.
In 2009, Schrade met Tobenas, who later shared her vision of spearheading a general aviation flight. Schrade wanted to help Tobenas and her colleague, Camil Durmont, the president of Aviation Connection in any way he could. That desire led him to flying a SportCruiser on May 19 from Marathon to Havana, a tribute both to the early beginnings of aviation and the glittering future ahead.
Next year, the newly reinstated air rally will feature Schrade's S-38, which he sold in 2012 to Kermit Weeks of Fantasy Flights Museum in Florida. The rally will feature other vintage planes. Attendees of the event will have the opportunity to meet the pilots.
Schrade was CEO of Aviation Trading and is currently president of the company, which is now called Cruiser Aircraft, Inc. The company is based out of Royal Palm Beach, Florida, though Schrade shared the operation will be moving to Sebastian Florida Airport in January 2018 where they have a 16,000 square foot hangar to begin construction in July 2017. He lives in Florida with his wife, Frances, and two dogs, Frankie and Daisy.
Does Schrade have plans to return to Cuba? Nothing is set in stone yet, but he "would like to return to Cuba in the future, hopefully when...normalization occurs." Catherine Tobenas is hopeful that a 2018 Air Rally will happen. Cuba has already granted permission for it to take place. What remains to be seen is how the Trump Administration will choose to navigate the uncertain relations.
Photo courtesy Erin Porter
What is certain, though, is Schrade's deep roots to a small Minnesotan town, a place unassuming of its importance on the international scale. Hinckley may be distinctive for its restaurants and entertainment, but it is lives like Tom Schrade's that enliven dreams and reveal histories from two places that, at first glance, couldn't seem more different.