Minnesota Aviation Hall of Fame
C.M. Swanson
The 28th Annual Induction Ceremony of the Minnesota Aviation Hall of Fame began, as usual, with a social hour and banquet at the Hyatt Regency Bloomington on April 22.
What was most unusual was the passing of the torch for banquet management to a gracious Cheri Rohlfing who noted this year it took a 23-member planning committee to do what Noel and Mary Allard have been undertaking for 27 years.
This year's Master of Ceremonies was radio host, Al Malmberg; keynote speakers were Dale Klapmeier and Gary Black of Cirrus Aircraft. Sam Weigel received the 2017 Writing Award.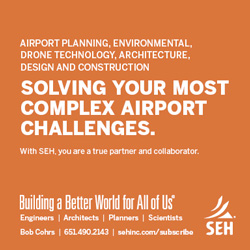 C.M. Swanson