Hutchinson Airport
Courtesy of Hutchinson Airport
Tom Foster
"Life is not a dress rehearsal."
Both pilots and Irishmen are naturally philosophical, so it should be no surprise to learn that these are words of wisdom from Joe Dooley. Better known as the Flying Irishman, Mr. Dooley was a local pilot and long-time supporter of the Hutchinson Municipal Airport.
He learned to fly in 1977, but got bored with just flying around so he taught himself aerobatics. That turned into a long airshow career. Dooley did over 500 performances in his stock Pitts S1S.
After Joe Dooley "flew west," Hutchinson dedicated the Airport's Terminal Building in his honor. The ceremony was on August 7, 2010. Of course there was an airshow.
The Dooley Terminal is comfortable and spacious. It welcomes pilots and passengers with all the right facilities. There's a pilot's lounge, conference room and flight planning area. It's not the only good thing about the Hutchinson Airport.
There's also a full service FBO, 24-hour Avgas and Jet Fuel, a courtesy car, and ramp space for just about any size GA aircraft. Hutchinson is home to 40+ aircraft and the Airport has plenty of hangar space for both overnight stays and long term storage.
On the air side there's a 4000-foot-long runway equipped with Runway End Identifier Lights (REILs) and Precision Approach Path Indicators (PAPI).RNAV/GPS approaches can get you on the ground when the weather's not so hot, and an automated weather system (AWOS) will keep you posted on what the wind and clouds are doing. There's also a Remote Communications Outlet (RCO) and a full taxiway system.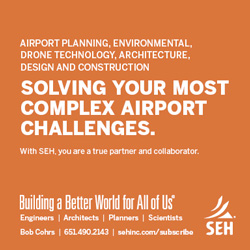 Hutchinson is "Minnesota's Home Town". It was founded in 1855 by three brothers who were members of the "Hutchinson Family Singers". Asa, John and Judson Hutchinson were part of what was probably the most popular musical group of the 1840's and 50's. The Singers were famous for their four-part harmony.
The Hutchinson family was also active in some of the 19th Century's most important and controversial causes. Among the movements they supported were the abolition of slavery and equal rights for women.
Fredrick Douglass and William Lloyd Garrison were some of their better known associates. Having heard good things about Minnesota, the brothers came west to explore the Crow River Valley.
After choosing the site for their town, they drew up thirteen Articles of Agreement. Among other things, the articles dedicated 15 acres for public parks, and guaranteed the town would provide equal rights to women.
Speaking of women and home towns, Lindsay Whalen played for Hutchinson High School. So what if it's got nothing to do with aviation, she's arguably Minnesota's best basketball player ever. Forget Stephen Curry and Tony Parker. If you want to see how to play point guard, watch Lindsay Whalen.
Incorporated in 1904, the modern city is a hub for manufacturing and commercial services. Recognizing access to air transportation was essential to economic development, the City built the municipal airport which opened in 1965.
Getting Hutchinson an airport was a priority for Ken Butler, a local aviator who was the long time president of the Minnesota Flying Farmers chapter. Butler was a persistent lobbyist for aviation issues including regulation of tall towers in rural areas. Hutchinson named the airport Ken Butler Field in his honor. He was inducted into the Minnesota Aviation Hall of Fame in 2004.
Hutchinson Municipal Airport gets a lot of business traffic, but there are many other reasons to fly there. The City is located on the Crow River. There are plenty of lakes around, too.
The annual Water Carnival features a fly-in sponsored by the local Civil Air Patrol (CAP) squadron that includes both pancakes for breakfast and pork chops for dinner.
Local restaurants can satisfy just about any food craving you have. There are a number of good quality hotels in town. You can also camp on the airport if that's what you like to do.
Other recreational opportunities include golf (three courses available), hiking and biking trails, and the many public parks that the Hutchinson brothers envisioned.
The historic downtown is pretty cool too, featuring the restored State Theatre plus several other buildings that are on the national historic register. All these good things could make flying to Hutchison just like a trip to your own home town.
Tom Foster